Gutter Repair Waterford
Installation, repair and maintenance in Waterford
Our workmen will repair, clean or replace your gutters.
Gutter cleaning and gutter repair service throughout Waterford. We're a family-run roofing company in Waterford with 25 years experience.
Waterford City Roofing and Guttering all over County Waterford. Get the best Guttering service in Waterford. If you need new gutters Waterford we have you covered. Call our office or visit us online at https://waterfordcityroofing.com/
New Gutters in Waterford
When it comes to looking for New Gutters in Waterford. Look no further than Waterford City Guttering With offices on both the North and the South of Waterford, Guttering Waterford has you covered for New Gutters, repair or replace.
Reasons to Choose
Have your gutters started overflowing it's time for a clean. We can unblock everything from your gutters including: moss, leaves, silt and debris. Anything removed can either be disposed of in your compost bin or we can remove it from your premises for you.
It's best to get your gutters cleaned at least once a year – a popular time for our clients is during the big spring clean to get rid of the winter's debris
Affordable, reliable and safe gutter cleaning services in Dublin. The team at Waterford City Roofers have over 25 years of experience in gutter repair services in Dublin. We provide our customers with full cleaning, repair and gutter inspection across Dublin city and the surrounding areas.
Our gutters repair team use the latest technology to fix blockages in situ and flush out any unwanted items, up to four storeys high.
We are fully insured and trained fully. Get your guttering cleaned by the professionals today. While we're cleaning your guttering, we will also get your soffit and fascia sparkling again: removing any algae or mold that has grown over time.
Saving Money on Your Roofing & Guttering in Waterford
If your not sure as what repairs in your roof and gutters are required, get a report and evaluation done on your roof so you know exactly what is and is not required to minimise your costs.  This is also a great way to prevent further costs down the line with your guttering, catch the damage early before it gets worse and save money.
When damages exist you should, repair it as soon as they're damaged. Pro tip: Look at the local weather forecast and plan your gutter repairs as appropriate.
Gutter Replacement and Cleaning
Though not mandatory, cleaning gutters are easiest when you have a hose attachment. I mean, who wouldn't want to make the most out of the water's pressure? Chances are, you'll need a ladder while performing this job (unless you're exceptionally tall).
Start by removing the larger twigs and leaves. You could use a trowel and dump them into a waste bucket.
For roofs its best to let professionals to evaluate it before you start getting out the ladder.  Most roofing companies will look at it and assess it and let you know what you need to get done.
Knowing What is the Best choice for you situation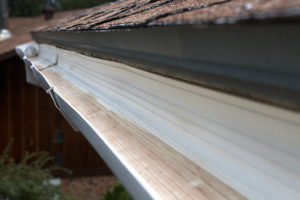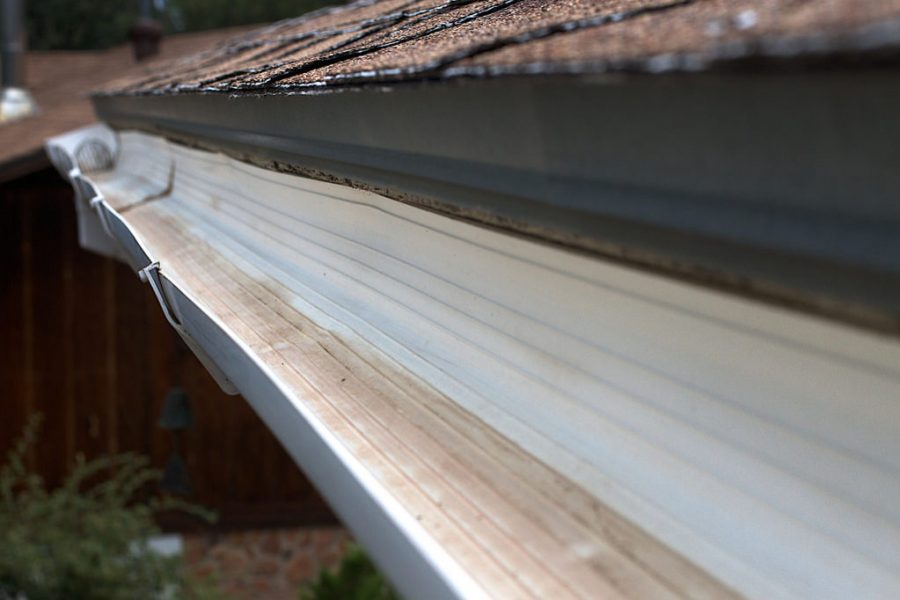 It is particularly important that you choose a reliable gutter cleaning service because rainstorms are common and are highly likely to cause damage and flooding if you do not maintain your gutters in good condition. By finding a specialist that will be able to do this work for you, you can avoid the danger and annoyance of climbing a ladder to clean your own gutter. These specialists will also combine gutter cleaning and repair.
Improving Your Gutters – If you have some issues with your gutters overflowing or getting clogged, you probably do not need to replace them. There are a lot of things that you can do to boost the performance of your gutter system.
First of all, check for any clogs in your gutters. The biggest culprit for gutter clogs is leaves. You should take a look at the trees near your house. Make certain that there are not any branches that are getting near your gutters. This will cause leaves to drop in your gutters, but also the branch could knock up against your gutter and knock it off. You should trim back any branches that get near your roof. This will only cause you problems during a storm.
If you have already trimmed back your branches as much as is prudent and you still get leaf problems, consider putting in gutter guards. The cheapest way to go is to use a gutter screen. You can install these on the tops of your gutters by just following the instructions. This is a great and inexpensive way to keep objects such as leaves out of your gutters.
Torch-on-Felt
Flat Roofing Waterford. Torch-on felt is what covers most flat roofs and has come a long way in the last ten years. This is the go-to option, cheap and readily available, it's usually applied in two or three layers. They can either have a granular finish or a smooth finish and this can be then painted with solar reflective paint. It usually comes with a materials guarantee of 10-15 years and costs about €55per sqm.
---
PVC
As an alternative is PVC, this is a single ply membrane of usually grey-coloured rubber is fixed to your timber base, making labour costs cheaper than the installation of a two-ply material. When its laid well it can looks very good, it usually costs 20-30 per cent more than a torch-on system and will come with guarantees of around 12-15 years.
---
Fibre Glass
Then there's fibreglass flat roofers, its effectiveness is still a bit undecided but has a reputation of being durable. Its inflexible nature is not suitable for some situations, but advances in materials in recent years have made fibreglass roofing more reliable and very durable. Costs are around €70 per sq m on domestic-sized roofs and should be able to last for about 15-20 years.
---
Zinc Roofing
Zinc is growing in popularity and one of our favourites, it's a slick, smooth, contemporary look that goes on in panels with a standing seam joining each panel. Its a very modern and durable look impressing the neighbours and visitors.
It is naturally resistant to corrosion, needs minimal to no maintenance due to its natural, self-protecting patina, and is extremely long lasting – 100 years-plus. It can come in a few grey, dark and silvery colours and will maintain its colour throughout its life.
Costs are about €120 per metre by the time up-stands, drips and fascias are taken into account. It is a nice advantage to be able to do your fascias, soffits and rainwater goods in the same material, giving nice continuity and consistency.
---
Copper Roofing
Copper has been the more traditional way to go. It is one of the few metals that occur naturally rather than needing to be extracted from ore, thus making it one of the earliest metals to be used.
The covering of choice for well-to-do buildings of the past. The gorgeous green patina it develops after years of oxidation has long been coveted by architects.
A truly beautiful natural product but unfortunately it comes with a truly heavy price tag. Expect to pay in the region of €130 per metre. Like zinc, it is extremely long lasting, around 100 years in this country.
---
Lead Roofing
Lead, another beautiful and traditional product, is hugely malleable, and mostly used on small areas, over bay windows for example. Cost would be similar to copper at €130 per metre and comes with a material guarantee of 50 years.